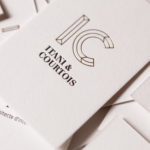 Itani & Courtois
Les Mureaux
Frédéric Flanquart - Website

Fondée en 2007, l'agence d'architecture Frédéric Flanquart, nous a sollicité pour la réalisation de son portfolio.
Pour ce faire nous avons opté pour un design discret et fluide permettant de s'imprégner en douceur de l'univers des projets de notre client.

Founded in 2007, Frédéric Flanquart is an architecture company. We were called to create the new design of his online portfolio.
To do so we opted for a discreet and fluid design to soak gently into the different projects.
PROJECT MANAGER : Jonathan Richy
designers : Clara Lie, Jonathan Richy
web developer : Vincent Ginet, Benjamin Sanchez
year : 2015
SHARE : Twitter () - Facebook ()